Who We Are..
Congregation Beth Abraham-Jacob (CBAJ) is an Orthodox synagogue that was established nearly two hundred years ago to serve the needs of the Jewish community of the Capital District in Albany, New York. CBAJ is dedicated to creating a Jewish home through a variety of Jewish spiritual, social, and educational experiences for parents, children, newcomers, singles, young, and old alike. CBAJ welcomes people from all walks of life to enhance both their love for and knowledge of Judaism while deepening their Jewish commitment.
CBAJ aims to create an environment and culture of sensitivity and understanding both within the synagogue as well as in the broader Jewish community by creating an abiding commitment to Torah and Mitzvot.
Davening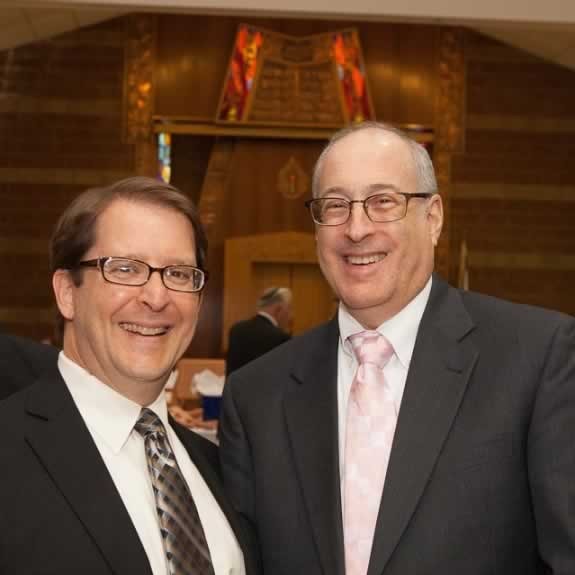 A central feature at CBAJ is its inspiring and meaningful Shabbat and weekday services. With a focus on communal singing and a warm and inviting atmosphere, all in attendance reach a spiritual high in their prayer services. With one of the only daily minyanim up I-87 between New York City and Montreal, our services are always infused and uplifted by many guests passing through Albany.
Family & Social Programming
One of the most important ways we build community at Congregation Beth Abraham-Jacob is through fun and engaging family and social programming. Past events have included communal Friday night dinners, themed Shabbatot, holiday programming, BBQ's and synagogue-wide games and competitions. With so many different and unique programs, there truly is something for everyone at CBAJ.
Adult Education
Congregation Beth Abraham-Jacob is committed to the development and growth of its members by offering a myriad of engaging and creative learning programs throughout the year. To expand involvement and interest in Jewish learning, CBAJ offers dynamic and engaging adult education classes and programs including Nach Yomi, Scholars in Residence, and weekly and monthly classes in Tanach (Bible) study as well as Contemporary Halacha (Jewish Law).
Youth Programming
At the core of Congregation Beth Abraham-Jacob's mission is a commitment to developing a warm, fun, and educational environment for the youth of our Synagogue. CBAJ strives to provide meaningful and positive Jewish experiences for all of the children in our community through weekly Shabbat morning and afternoon programming, Saturday night and Sunday morning events, and NCSY programming. In addition, youth programs are led and organized by trained and dynamic Youth Directors and Advisors who act as positive Jewish role models for the children of our community.
Sun, December 3 2023
20 Kislev 5784
Torah High 2023/2024
Torah High begins Monday, October 9, at 7:00 to 9:00 pm, and meets every Monday night of the school year.
Click HERE to register
(for students in grades 8 through 12)
COVID/ DAILY AND SHABBAT SERVICES INFORMATION
Visitors please e-mail the CBAJ office regarding registering for our services during the ongoing pandemic.
Please review and adhere to our COVID POLICY when planning your visit.
The wearing of masks will be a personal choice. This applies to both services and social activities, such as kiddish.
Fully vaccinated community members are welcome to register as "vaccinated" at this link.
If you feel sick at all, please exercise good judgment and stay home rather than attending services, regardless of vaccine status.
We still request those who are able to help our Minyan status register for weekday and Friday and Shabbat afternoon services, so that we can continue to confirm a Minyan for those times. A registration email is sent weekly.
Zmanim
Alot Hashachar
5:37am
Earliest Tallit
6:11am
Netz (Sunrise)
7:08am
Latest Shema
9:26am
Zman Tefillah
10:12am
Chatzot (Midday)
11:45am
Mincha Gedola
12:08pm
Mincha Ketana
2:27pm
Plag HaMincha
3:24pm
Shkiah (Sunset)
4:22pm
Tzeit Hakochavim
5:09pm
More >>
Sun, December 3 2023 20 Kislev 5784