Rabbi Roy Feldman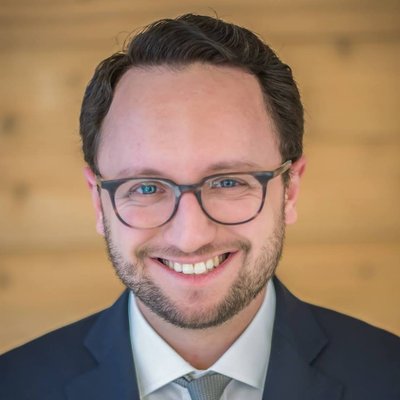 Originally from New York City, Rabbi Roy Feldman is excited to serve the Jewish community of his state's capital. He earned his undergraduate degree in Linguistics and History at Columbia University and studied at Yeshivat Petach Tikva in Israel. After that, Rabbi Feldman received rabbinic ordination from the Rabbi Isaac Elchanan Theological Seminary and from Rabbi Zalman Nechemia Goldberg of Jerusalem, as well as an MA in Jewish Philosophy from the Bernard Revel Graduate School. Prior to joining CBAJ, he was Assistant Rabbi at Congregation Kehilath Jeshurun in Manhattan and taught Judaic studies at the Ramaz Upper School, where he received rabbinic training and mentoring from Rabbi Haskel Lookstein. He is married to Rachel Minkin and they are the proud parents of Charlotte and Millie.
Rabbi Feldman believes that a rabbi's primary role in the twenty-first century is to articulate, embody, and exemplify the reasons why traditional Judaism remains relevant today. Some of Rabbi Feldman's teaching can be found on YU Torah.
(518) 489-5819 ext. 5
rabbi@cbaj.org
Seanan Herrick
Seanan grew up just around the corner from CBAJ, and is happy to be back in her old neighborhood.
She has years of experience in office management and customer service, and also created and run her own childcare center. Seanan lives in Delmar with her husband Daniel, and daughters Katelyn and Madelyn.
(518) 489-5819 ext. 3
seanan@cbaj.org
Thu, April 22 2021
10 Iyyar 5781
COVID-19 DAILY AND SHABBAT SERVICES INFORMATION
All services are currently operating on a different schedule than the one below.
Please note that due to the Covid-19 pandemic, services are not currently open to visitors or travelers.
All services are open ONLY to members and friends of CBAJ who live in the local region and register in advance and agree to abide by our health and safety protocols.
Today's Sefirah Count Is 25
היום חמשה ועשרים יום שהם שלשה שבועות וארבעה ימים לעמר
Today's Calendar
Shacharit

: 6:40am
Mincha/Maariv

: 7:25pm
---
Friday Night
Mincha / Kabbalat Shabbat / Maariv

: 7:00pm
Candle Lighting

: 7:30pm
Shabbat Day
Shacharit

: 9:00am
Mincha

: 7:30pm
Maariv

: 8:20pm
Havdalah

: 8:32pm
This week's Torah portion is

Parshat Achrei Mot-Kedoshim
Candle Lighting
Havdalah
Motzei Shabbat, Apr 24, 8:32pm
Pesach Sheni
View Calendar
Zmanim
Alot Hashachar
4:31am
Earliest Tallit
5:08am
Netz (Sunrise)
6:02am
Latest Shema
9:27am
Zman Tefillah
10:37am
Chatzot (Midday)
12:54pm
Mincha Gedola
1:28pm
Mincha Ketana
4:55pm
Plag HaMincha
6:21pm
Shkiah (Sunset)
7:47pm
Tzeit Hakochavim
8:30pm
More >>
Thu, April 22 2021 10 Iyyar 5781