CBAJ Notes Weekly E-mail
CBAJ Notes for Shabbat Bo
01/22/2021 08:22:21 AM
Congregation Beth Abraham-Jacob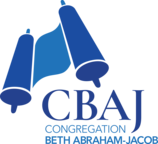 ​​​​​​​


Candle Lighting 
4:39 pm 

Latest Shema
9:41 am

Latest Shacharit
10:30 am

Earliest Mincha
12:32 pm

Sunset
4:58 pm
 
Shabbat ends
5:42 pm
​​​​​​​
All Services
for registered participants

​​​​​​​

​​​​​​​
​​​​​​​​​​​​​​​​​​​​​ ​​​​​​​
Shabbat Bo
January 22-23, 2021

SERVICES
Registered participants are welcome at our services. Please note that due to the pandemic, we cannot allow anyone who is not registered into our building. Exact times are sent to registrants.
Even if you are registered, if you feel sick at all, please exercise good judgment and stay home rather than attending services. 
When leaving the building, please continue to exercise social distancing and do not congregate in the hallways / vestibules.

VIDEO HONORING THEODORE STRAUSS Z"L
CBAJ is the beneficiary of a bequest left by lifelong Albany resident, Theodore Strauss Z"L.  His Yahrzeit is this Sunday; the Jewish Federation of NENY has produced a short video to honor his memory. It contains brief remarks and words of Torah from Rabbi Feldman and other Jewish leaders.  Please take a few minutes to honor Mr. Strauss's memory and view the video here .

TORAH READING
Exodus 6:2 - 9:35, Artscroll p. 318  
Haftarah: Isaiah 66:1-24, p. 1208   

MAZAL TOV
Mazal Tov to Rabbi Moshe and Rochel Bomzer on the birth of a grandson, born to their children, Avigaiel and Shmulie Heifetz.

Mazal Tov to Nina and Grigory Mikhaylov on the birth of a grandson, born to their children, Liya and Chaim Ovadia

OPEN ZOOM CONVERSATION WITH MEMBER OF KNESSET TEHILA FRIEDMAN
Ms. Friedman is a member of Knesset who formerly served as the director of the Shaharit organization's work in the Religious Zionist community, and headed the MetroWest Federation's Israel Office. Her opening speech at the Knesset on the need for unity in Israel, which you can view here , went viral online.
We are excited to join with three other congregations in the US for her presentation on "The Importance of the Upcoming Israeli Election for American Jews" and the opportunity for open Q&A with this Israeli leader. Sunday, January 31, at 1 pm.  Zoom Link forthcoming.

PURIM AT CBAJ
In order to help us plan Purim Services this year, please fill out this survey by next Friday (1/29) if you would like to attend Live Megilah Readings on Purim eve and/or day.  Mishloach Manot and other programming information is forthcoming.

​​​​​​ADULT EDUCATION @ CBAJ
Shabbat: Halacha in the Parsha with Rabbi Feldman between Mincha and Ma'ariv on Shabbat afternoons for registered participants
Thursdays: Tanakh Class at 9:30 am in the CBAJ Zoom Room, studying Melachim (Kings)
Monday Evenings: at 8 pm, an in depth study of the practices of Aveilut (Mourning) in the Talmud, Jewish Law, and Jewish Philosophy, with Rabbi Feldman.

ALBANY NCSY THIS WEEK
For more information contact Jack Hartstein

CONDOLENCES
We regret to inform you of the untimely passing of CBAJ Member Alan Ginsburg, husband of Cheryl Ginsburg, and father of Elana (Jeremy), Larry,
Harlan (Isabella), Reuben, and Davi.
Notes of condolence can be sent to Cheryl Ginsburg at  acginsey@gmail.com ​​​​​​​.

WE ARE HERE FOR YOU
Rabbi Feldman and the CBAJ Family is available to speak with you. Please e-mail him at  rabbi@cbaj.org  or call the CBAJ Office to leave a message. 
CBAJ President Artie Brenner is reachable at  president@cbaj.org . The Chesed committee can be reached through the form below.

CHESED AT CBAJ
If you would like help with shopping, errands, or other things since you are remaining home as much as possible, or conversely, if you would like to volunteer to help people in the community who may need help,  please fill out the form at this link .  Please be in touch with Rabbi Feldman with any needs.

COMMUNITY ANNOUNCEMENTS
Bet Shraga Hebrew Academy is hosting a virtual info session regarding their general and judaic studies programming on January 31 at 8:00 pm on Zoom.
Register HERE.

Camp Givah is hopeful they will open this summer starting June 28  - August 20. They are accepting staff applications ranging from group counselors to lifeguards to specialty counselors. Apply HERE  before the February 15th deadline. 

Havurah Initiative: The Jewish Federation is launching a new Havurah Initiative , our community's third joint program between Harold Grinspoon Foundation (HGF) and Jewish Federation. We also partner on PJ Library and LIFE & LEGACY®.

YOU SEND IT, WE PRINT IT
Please be sure to send the CBAJ office information about celebrations or other achievements to be mentioned in the weekly e-mail and printed notes.

ACCESS INFORMATION FOR OUR VIRTUAL PROGRAMS
Our Zoom conferences can be accessed on a computer or smartphone at:  https://zoom.us/j/9405089347 and entering password 613518.
For Facebook programming, visit facebook.com/rabbifeldman

DAILY SERVICES
In person for registered participants.
Sunday - Thursday: 4:55 pm on Zoom 

---------------------------------------------------------------------

JEWISH FAMILY SERVICES
New Offerings: 
JFS has launched new virtual groups to help: teens "unload;" parents with day-to-day challenges; caregivers with information sharing; older adults with staying safe & connected; grief & loss; pandemic stress; and feeling down and disconnected. 

JFS is offering many programs and help at this time, and they also seek volunteers for many of those initiatives.  Click here for more information if you'd like to volunteer or participate.  Our very own Nanette Brenner will be leading Activities for Emotional Well-being on Mondays; click here for more information or to register .

CORONA-VIRUS INFORMATION
If you have health related questions, concerns, or needs regarding COVID-19, St. Peters Health Partners has social workers and nurses available to speak with you at 518-525-1132.  If you need more emotional support during this difficult time,
the NY State COVID-19 Emotional Support Hotline is 844-863-9314.

When it comes to possibly saving lives, Jewish law always follows the most stringent opinion that will save the most lives. Let us be part of the solution by staying safe and following protocols suggested by public health experts. Keep social distancing guidelines:
Do not be within 6 feet of anyone else, except the people with whom you live.
If you can, work from home; if you cannot, maintain the social distancing protocols.
Playdates should not take place between children.
If you experience symptoms, contact your doctor.
Do not invite guests for Shabbat or Yom Tov meals, and make Shiva and Bikkur Cholim visits by phone.
If you are High Risk due to age or other conditions, please stay home as much as possible and take advantage of our Chesed Committee's generous offers.
The Mikva is open by appointment and is following protocols suggested by the Orthodox Union in consultation with public health experts. 
The Utensil Mikvah is also open. Please bring gloves to use, and wash your hands with soap before and after using the Utensil Mikvah. If you cannot follow these sanitary protocols, or if you have personal concerns about using the Utensil Mikvah for current health-related reasons, you may use this form to have the Beth Din of America arrange to sell your new utensils to someone who is not Jewish.  They will arrange to buy those utensils back at a later date (which will be shared with you), at which point your utensils must be "toveled" in the Mikvah. This solution is only to be used in cases of great need, such as ours.

TEFILAH AT HOME
Use this opportunity to take extra time and read the Tefilot meaningfully (and learn their meaning), sing with new melodies (if you have others at home, sing together). 
Aside from not reciting Bar'chu, Kaddish, Kedusha, or the repetition in any services:
Friday Night: Recite Vayechulu paragraph following the Amidah, then skip to Aleinu. If starting Shabbat early, daven Mincha before Plag Hamincha (the time labeled "Earliest Shabbat" on this e-mail's time-bar), candles may be lit and Ma'ariv may be davened after Plag Hamincha.
Shabbat Morning: Start davening in time to recite Shema before the latest time for Shema. After Shacharit Amidah, read the Torah Portion and special Maftir without any of the blessings.  Yekum Purkan is not recited, then Ashrei and the Mussaf Amidah should be recited, and the concluding prayers (if you have children at home, ask them to lead Ein Kelokeinu, Aleinu, Shir Shel Yom, and Adon Olam). Shir HaKavod is not recited.
Ma'ariv and general: One may daven Ma'ariv 15 minutes before the end of Shabbat and include Atah Chonantanu in the Amidah. It is Rabbi Feldman's opinion that one does not say the three words "E-l Melech Ne'eman" before Shema in Ma'ariv or Shacharit, contrary to the instructions in many Siddurim. It is also his opinion that one who usually recites the paragraph at weekday Ma'ariv that begins ברוך ה' לעולם אמן ואמן does not recite this paragraph when praying without a Minyan. 

LIFE & LEGACY *
We are excited and honored to be partnering with 10 other local organizations in the Harold Grinspoon Foundation's LIFE & LEGACY™ program. We completed a successful first year!  Please help us pay it forward and leave a legacy for future Capital District Jews. Please speak to a Life & Legacy committee member about partnering on this crucial initiative to ensure the vitality of Congregation Beth Abraham-Jacob for the next 200 years. Please consider completing a Letter of Intent. For more information, contact office@cbaj.org.
Congregation Beth Abraham-Jacob
380 Whitehall Rd
Albany, NY 12208
Sat, July 24 2021
15 Av 5781
COVID-19 DAILY AND SHABBAT SERVICES INFORMATION
Visitors please e-mail the CBAJ office regarding registering for our services during the ongoing pandemic.
Fully vaccinated community members are welcome to register as "vaccinated" at this link , following which masks will be optional for those individuals. Unvaccinated people, including children, must wear a mask.
If you feel sick at all, please exercise good judgment and stay home rather than attending services, regardless of vaccine status.
We still request those who are able to help our Minyan status register for weekday and Friday and Shabbat afternoon services, so that we can continue to confirm a Minyan for those times. A registration email is sent weekly.
Today's Calendar
Shacharit

: 9:00am
Mincha

: 8:10pm
Maariv

: 9:05pm
Havdalah

: 9:14pm
---
Friday Night
Mincha / Kabbalat Shabbat / Maariv

: 7:00pm
Candle Lighting

: 8:02pm
Shabbat Day
Shacharit

: 9:00am
Mincha

: 8:00pm
Maariv

: 8:55pm
Havdalah

: 9:05pm
This week's Torah portion is

Parshat Vaetchanan
Candle Lighting
Havdalah
Motzei Shabbat, Jul 24, 9:14pm
Shabbat Nachamu & Tu B'Av
View Calendar
Zmanim
Alot Hashachar
3:53am
Earliest Tallit
4:37am
Netz (Sunrise)
5:37am
Latest Shema
9:19am
Zman Tefillah
10:33am
Chatzot (Midday)
1:01pm
Mincha Gedola
1:38pm
Mincha Ketana
5:21pm
Plag HaMincha
6:53pm
Shkiah (Sunset)
8:26pm
Havdalah
9:14pm
Tzeit Hakochavim
9:14pm
More >>
Sat, July 24 2021 15 Av 5781