CBAJ Notes Weekly E-mail
Shabbat Shemot
01/12/2023 04:25:52 PM
Shabbat Shemot 
January 13 - 14, 2023  
Candle Lighting 
4:26 pm
 
Mincha,
Kabbalat Shabbat,
& Ma'ariv
4:25 pm

Morning Services
Shabbat
9:00 am

Latest Shema
9:44 am

Kiddush 
following services

Babysitting
10:00 am

Youth Groups
10:00 am

Shabbat Mincha
12:29 pm

Talmud Class 
4:45 pm

Shabbat ends
5:32 pm

Ma'ariv
5:45 pm


TORAH READING
Exodus 1:1 - 6:1, Artscroll p. 292  
Haftarah: Isaiah 27:6-28:13; 29:22-23, p. 1146 

SPEAKER
Rabbinic Intern Jack Hartstein will deliver the second of a three-part winter lecture series entitled Pillars.
This week's installment: "Torah in the Age of Google."  
​​​​​
KIDDUSH 
Kiddush this Shabbat is sponsored by CBAJ.
On behalf of Congregation Beth Abraham-Jacob, I would like to wish you and your family a restful and meaningful Shabbat.

Given that this Monday is Martin Luther King Jr. Day, I invite you to join me in reflecting on Dr. King's legacy and mission to fight for justice in our nation. I look forward to having the privilege of Dr. King's legacy and its intersection with the ideals of our Torah and tradition with my students at HACD this coming Monday. I encourage you to find a way to honor his legacy in your lives. 

I hope to see you soon at a tefilah, children's program, event, or class! 

Shabbat Shalom,

Rabbi Ben Kean
MINYAN NOTICE
In recent weeks, guaranteeing a weekday minyan has been a greater challenge, especially for Mincha/Maariv which is early in the Winter. 

In light of this, we ask two things of adult Jewish men:
1) If you are able to attend weekday minyan more frequently (even one day per week), please consider joining.
2) If you think you will be able to join minyan, regularly or occasionally, please sign-up on the weekly sign-up sheet so that we can know whether there will be enough attendees, or if we need to request additional attendees.

Please contact Rabbi Kean  to join the minyan WhatsApp group, useful for receiving the sign-up sheet or if you may be available to attend a minyan on short notice.

PARKING NOTICE 
For security purposes, any time a CBAJ member parks in our parking lot overnight, or the B'nai Shalom parking lot at any time, we request that you
display a placard issued from the office. A supply will be left on the shelf in the hallway outside the sanctuary.  Please contact office@cbaj.org if more placards are needed. 
JANUARY SIMCHA KIDDUSH 

The January Simcha Kiddush is on 1/21/2023 
Sponsors are invited to submit their celebratory announcements by 1/19/2023. Click here to complete the online form or email office@cbaj.org.

The January TOT SHABBAT will be 1/21/2023!

NEW DAILY LEARNING CLASS 
The new Daily Learning Class starts this Sunday, 1/15/2023! 
See the Weekly Learning at CBAJ section below for details 

SECURITY COMMITTEE: CSS Level 1 Training
Please email Ari Fisher for more information or to register for the next CSS Level Training on January 22.

NEW LECTURE SERIES: TALMUD TOGETHER
Tues. February 7th & Thurs. February 16
Join Rabbi Ben Kean and Rabbi Greg Weitzman for an evening - or two - of shared learning. Over the course of two evenings, both rabbis will teach their favorite Talmudic texts from their own unique perspectives. The first session will be Tuesday, February 7th, at CBAJ and the second on Thursday, February 16th at Congregation Beth Emeth (100 Academy Rd). Rabbi Greg Weitzman joined CBE as their Co-Senior Rabbi last summer, one year after Rabbi Kean joined CBAJ.
NCSY Events
UPDATED JANUARY SHABBATON
JAN 20-21 Albany Chapter Shabbaton
Teens in grades 8-12 are invited to join advisors for a thrilling Shabbaton in Albany. Complete details to be announced soon.
Contact Rabbinic intern Jack Hartstein for more information.

FEB 10-12 Winter Regional Shabbaton
All Teens grades 8-12 are invited to sign up for Northeast NCSY Winter Regional! This Shabbaton will bring Jewish teens together from across New England & Upstate NY for a weekend of fun, new & old friends, engaging and meaningful programming, & an uplifting Shabbat together in the beautiful Ethan Allen Hotel
in Danbury, CT.  Saturday night will feature all the attractions at the CT Xtreme Indoor Adventure Park!  Early Bird Price until Jan 15th
For more information and to register, go to NCSY's website.



Torah High 2022-2023
CBAJ's Torah High meets Mondays, 7-9 pm and is open to all students in grades 8 - 12. Pizza dinner is served.   Registration information available here   
Babysitting 
Babysitting is available for children ages 0-5 every Shabbat morning for from 10:00-11:30 am! You do not need to be a member to drop off your kids. At least one parent or guardian must be at CBAJ for the duration of babysitting. Babysitting will take place in Classroom 3. The babysitters will bring the kids to Kiddush, please remember to pick up your kids when babysitting ends! Please make sure to inform the babysitters if your child has any food allergies/restrictions. Children in diapers may participate, but babysitters will not be able to change diapers, so please check on kids in diapers.

Youth Groups  
Kids in grades k-5 will meet each Shabbat morning at 10-11 am.
Groups will be led by our youth director, Yael Gonzalez, and teen youth leaders. For more information about attending, or if your teen wants to work as a youth leader, email office@cbaj.org.

Tot Shabbat 
For children ages 0-5 and their parents at 10:30 am in classroom 3.
The next TOT SHABBAT is January 21, 2023

Please contact Joshua Schulman-Marcus (jschumar@gmail.com) if you would like to be added to the Young Families WhatsApp group. 



WEEKLY CLASSES
TORAH & TEA* Thursday mornings, 9:30 - 10:30 AM on Zoom*. Studying Kings 2.
* A Theodore Strauss z"l Endowment Fund sponsored program

TALMUD CLASS - 4:45 pm this Shabbat
Join our Shabbat Afternoon TALMUD SHIUR 
in-person, at CBAJ, starting 45 minutes before Shabbat ends. We are studying Masechet Makkot.  

NACH YOMI - *NEW*
Starting Sunday, Jan. 15,  
Join Rabbi Kean for studying a chapter of NACH (Nevi'im & Ketuvim, the latter two sections of Jewish scripture) every weekday before Shacharit.
Sunday through Friday, half an hour before the regular start time for morning services (7:30 am on Sundays, 6:10 am Monday - Friday). join Rabbi Kean in the CBAJ social hall for daily learning sessions. 

*CBAJ ZOOM ROOM (weekday classes only)
Go to https://zoom.us/join
Enter meeting ID: 940 508 9347 | Enter passcode: 613518
ADULT EDUCATION PROGRAMMING 
BOOK CLUB 
The next CBAJ Book Club is meeting in the CBAJ Zoom Room on January 18th at 8:00 pm to discuss A Journey to the End of the Millennium - A Novel of the Middle Ages by A. B. Yehoshua. 

KIDDUSH CONVERSATIONS
This year's Topic: "The World of Midrash"
Join CBAJ members in discussing a different Midrash every week! Midrash is one of our Tradition's most powerful and ancient tools for understanding the Torah and demonstrating its relevance to later generations, 
For more information, suggested source material, or the volunteer sign-up page, please click here.
If you have any questions, please reach out to Rabbi Kean or Steve Rich. 
Begins November 19, and will take place following Kiddush.

PILLARS LECTURE SERIES
Please note updated dates for the final two installments.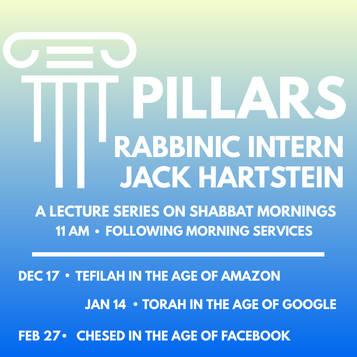 FEEDBACK REQUESTED
The Adult Education Committee wants to hear from you!
All ideas about classes, lectures, and other adult education programs of interest should be forwarded to events@cbaj.org ​​​​​​​
Shacharit 
Sunday 
8:00 AM

Monday - Friday
6:40 am
Mincha/Maariv
Sunday - Friday
4:35 pm




Candle lighting 
Friday 1/20/2023
4:35 pm

 
We are excited and honored to be partnering with 10 other local organizations in the Harold Grinspoon Foundation's LIFE & LEGACY™ program. Please help us pay it forward and leave a legacy for future Capital District Jews. Please speak to a Life & Legacy committee member about partnering on this crucial initiative to ensure the vitality of Congregation Beth Abraham-Jacob for the next 200 years. For more information, contact office@cbaj.org ​​​​​​​.
COMMUNITY  EVENTS & ANNOUNCEMENTS 
JFS-CBAJ Volunteer Partnership
CBAJ invites you to volunteer with one of JFS's programs to support seniors and vulnerable individuals in our community.  Email Simma Kinderlehrer  to learn more.​​​​​​​

POSITIVE PARENTING WITH RABBI ZALMY KUDAN
Sunday, January 22, 2023 at the Jewish Federation Golub Center (184 Washington Ave. Ext., Albany)
The Jewish Federation of NENY & Maimonides PTA invite you to a parent's night out, for an evening of inspiration.
​​​​​​​See flyer for details. 
RSVP to MHDSpta@gmail.com
Congregation Beth Abraham-Jacob
380 Whitehall Rd
Albany, NY 12208
Sat, January 28 2023
6 Shevat 5783
Kiddush Conversations
Join CBAJ members in discussing a different Midrash every week! Midrash is one of our Tradition's most powerful and ancient tools for understanding the Torah and demonstrating its relevance to later generations
This year's Topic: "The World of Midrash"
CLICK HERE to sign up or email rabbi@cbaj.org
COVID/ DAILY AND SHABBAT SERVICES INFORMATION
Visitors please e-mail the CBAJ office regarding registering for our services during the ongoing pandemic.
Please review and adhere to our COVID POLICY when planning your visit.
The wearing of masks will be a personal choice. This applies to both services and social activities, such as kiddish.
Fully vaccinated community members are welcome to register as "vaccinated" at this link.
If you feel sick at all, please exercise good judgment and stay home rather than attending services, regardless of vaccine status.
We still request those who are able to help our Minyan status register for weekday and Friday and Shabbat afternoon services, so that we can continue to confirm a Minyan for those times. A registration email is sent weekly.
Zmanim
Alot Hashachar
5:47am
Earliest Tallit
6:20am
Netz (Sunrise)
7:14am
Latest Shema
9:41am
Zman Tefillah
10:30am
Chatzot (Midday)
12:09pm
Mincha Gedola
12:33pm
Mincha Ketana
3:00pm
Plag HaMincha
4:02pm
Shkiah (Sunset)
5:03pm
Havdalah
5:48pm
Tzeit Hakochavim
5:48pm
More >>
Sat, January 28 2023 6 Shevat 5783